Delivery to your door
Click & Collect
General Information
You can now order online and then collect from our store in Ashton Keynes, north Wiltshire.
At the checkout choose the "Click & Collect" option.

Please add your pickup date and time in the box provided on the checkout page. Collection is available every day except Sunday between 8:30am and midday. Please contact us to arrange collection outside of these times
Complete and pay for your order.
Store Address
Unit S2,
The Old Brickyard,
Ashton Keynes,
Wiltshire,
SN6 6QR.
Order as much or as little as you like! Perfect for trying out a new brand or for those with limited freezer space.
FREE delivery on orders of £100+.
To have your order delivered to your door within 48 hours *, choose "Home Delivery" at the checkout.

Our current delivery area is limited by post code districts in our online store system but the number of post codes is increasing. The circle on the map below roughly outlines the area.
If your delivery address is a few miles inside or outside the boundary please drop us a message using the form at the end of this page before you place your order.
Deliveries: Monday to Friday
Saturdays: Collections only
Sunday: Closed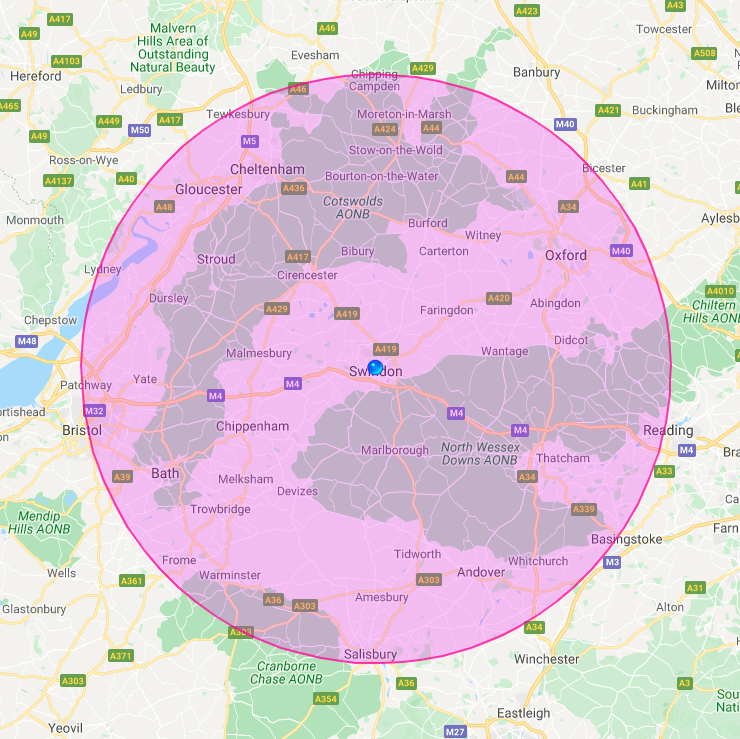 * We will always endeavour to deliver your order in an insulated polystyrene box however we cannot always guarantee this. These boxes can be returned to us, re-used or recycled where facilities are available.
Your order will be delivered within 48 hours of placing the order – although we always do our very best to deliver next day. Deliveries are usually made in the afternoons.
If you are opting for collection and are not able to collect between 8.30am and midday, please contact us and we will arrange to leave your order at our premises for you to collect at your convenience. 
When placing your order, please use the Special Instructions box to nominate a 'Safe Place'. This can be a neighbour (please ask their permission!) or your garden, porch, shed etc. This is to ensure that your delivery can always be left safely if no one is in. We have had orders stolen from customer properties so if we cannot find a suitable safe place, we will not risk leaving your order and will re-deliver the next day. This will unfortunately incur a second delivery charge so please do let us know where your order can be safely left. Frozen dog food is perfectly safe to refreeze should it defrost slightly.